So this week on Fb I posted a challenge that I knew would annoy many people I care about. Posted it anyway — not because I enjoy annoying people, but because it is an important subject that too many people have not thought about.
Here's what I said in my opening post.
Discussion today will probably ruffle a few feathers among my friends. So I'm gonna draw your attention to it: I'm calling out the pointing-over-the-berm reload as a fundamentally unsafe practice that should not be permitted on outdoor ranges.

This was sparked by two things. First, there's the news story of the 8 year old boy struck by a bullet that escaped from a range near where he was picking apples. As that boy and his family could tell us, "I didn't mean to do that" does not erase the pain and trauma of a gunshot wound that harms an innocent.

More to the point, there's this. Over the past couple of weeks, I have been reading through the literally hundreds of Unintended Discharges (NDs, ADs, and combined causes) that I have collected over the past few years from gun forums and elsewhere.

There are far more instances where a gun fires upon slide forward (eg, "slam fire") than I thought, and many instances where people in a hurry or new to the gun suffer a sympathetic squeeze reaction and fire the gun when they intend to either drop a slide or release a magazine. In most of these cases, the only thing that prevented serious injury or death was that the user fortuitously (sometimes deliberately, but more often fortuitously) pointed the gun in a safe direction.

Why are so many instructors and accomplished shooters encouraging people not to keep the gun pointed in the safest possible direction — at the berm — during the reload? What benefit could possibly outweigh the risk of deliberately, repeatedly, and habitually violating one of the fundamental safeguards against death or injury while handling live firearms?
Below, I have added some screenshots captured from random videos. I've scribbled out faces because I honestly don't want this to be about the people. It is simply a question of whether this widely-taught, widely-accepted practice is really a good idea, and want to be clear as to what we're talking about. Some of these images were captured from match videos, while others came from instructional ones.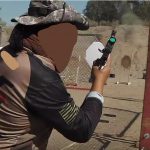 ***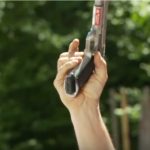 ***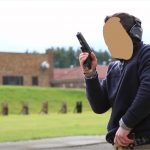 ***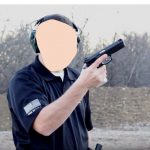 ***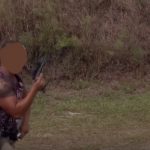 So that's the technique we're talking about. And the question is, do the benefits of lifting the muzzle over the range during the reload outweigh the loss of a fundamental safeguard — the safe-direction rule?
Is the risk of using this technique so low that the question of keeping that safeguard in place should never come up?
Are we thinking that "somewhere over the berm" is as safe a direction as "pointed directly at the berm"?
Or … what?
Lots of lively discussion followed this question. Well over 100 comments followed in the subthreads below the post, most of it thoughtful commentary. You should probably go read what everyone said about this subject, especially if you are ever responsible for the safety of others on a range. Lots of different perspectives and really important things to think about when a person chooses a "safe direction" to point their firearm on all different types of ranges.
Here are my concluding thoughts (that I also posted there):