Everyone knows what a serious firearms instructor looks like: bald or shaven head, dark sunglasses, 5.11 pants, black or tan polo shirt. Pictures of these guys all look alike, with shadowy backgrounds and high-contrast mood lighting (yeah, so about those sunglasses, guys…). Almost a Men in Black look, only without the suit.
Well, I'm setting out to change that. I am a serious firearms instructor, but I can't manage that look. Nor do I want to! For one thing, I have hair and really intend to keep it. For another, I specialize in realistic training for realistic people. It's not about how badazz you look; it's about being competent with a simple tool designed to help you save your life. It's about being prepared to handle whatever life throws at you in a very practical way. It's about keeping the life you already have, not about becoming someone else entirely.
So here's the look I'm after: competent, realistic, practical, professional. If I can manage "feminine" while I'm at it, I'll take that.
After the SHOT Show, my friend Oleg Volk took some of his friends and me out into the desert to shoot us. It's okay, he's a photographer. (And a darn fine shot, too.) I wasn't wearing my teaching uniform, just a slightly casual "meeting other professionals" outfit I threw together for the range. Here's the result: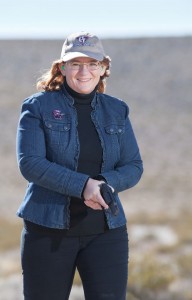 I love Oleg's work. But what do you think — did I meet my goal?