Look what landed on my doorstep!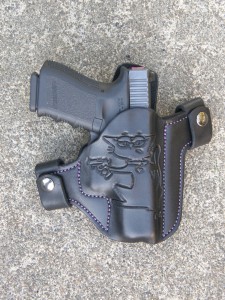 It came from Cerisse Wilson of Soteria Leather. I love the way this holster looks (how could I not?) but more than that, I truly love its quality. The leather is thick and rich, stiff enough to prevent premature holster collapse. The smooth, even finish looks amazing in person, even more beautiful than a photograph can show. Every gorgeous  purple stitch lands where it should, without a stutter or a missed stitch anywhere. The gun snugs into place with exactly the right amount of pre-use tension that one would expect from a quality leather holster. (As with all good leather holsters, this one will need to be broken in before use, because leather stretches a little bit over time.) The belt loops fit my belt exactly and the heavy-duty snaps hold the holster securely in place. Everything about this holster is rock solid.
To say I am pleased would be an understatement.